Navy Wives Clubs of America
2015 NATIONAL CONVENTION      OCTOBER 18-23, 2015
Gulfport, MS
Hosted by: Honeybees #257
"Laissez les Bon Temps Rouler"
(Let the Good Times Roll)
Deadline for package fees is SEPTEMBER 10th
2015 National Convention Registration Form
A few words from the National President, Julie Sharp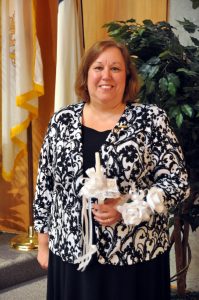 My dear sister members of Navy Wives Clubs of America, what a wonderful week this has been here in the beautiful Pacific Northwest.  How great it was to reconnect with old friends, make new friends, and conduct our national level business – as well as plan for our future.
On behalf everyone here, I thank our gracious hosts, the members of Kitsap 46, for their planning, dedication and hard work in making our experience this week magical.  I am especially inspired by the energy and ideas of their new members who worked together so harmoniously and tirelessly with their established sister members.  Together, they accomplished in short order, what took many of us years to perfect.  I humbly thank you all, so very much, for allowing me the opportunity to serve you for a second term as your National President.  As a former member of Kitsap 46, it has been a special honor to preside at this convention.  Thirty years ago, Yes 30 years ago, members of this club, some of whom are here today, encouraged me to apply for a National Chairmanship.  My mentor then, continues to be one of my mentors today.
Joey, I cannot thank you enough for igniting that spark in me so many years ago, and for continuing to encourage me to give my very best every day.
In concert with all of you, I am very proud to be a member of Navy Wives Clubs of America, Inc., a wonderful organization that has served our military and civilian communities for over 77 years.  We have active members with us who have celebrated 50 years in NWCA, including Nancy Johnson whom we recognized this week.  It is that level of commitment that inspires us to continue serving our local, and national, military and civilian communities in the name of NWCA.  The pride and joy we all share while serving others is apparent in our organization's annual report, where our volunteer hours alone are equivalent to two full weeks per member.   As I have often said, we may be small in numbers, but our commitment to service speaks volumes.
With this in mind, our 2014-2015 President's theme is Pride through Service and Commitment.
As we recite the Navy Wives Pledge at our next meeting, let us all think about these words that MARY Paolozzi wrote so many years ago, which represents all that we are as an organization:
Serving the Flag of our Country – Pride.
Join in all activities in so far as I am able – Service.
Promise to live up to the high standards and ideals of our organization – Commitment.
As our 2014 National Convention is about to close, may we all return to our clubs with a renewed sense of purpose and Pride through Service and Commitment.
Thank You!
Julie Sharp, National President