Navy Wives Clubs of America
2016 National Convention
Mayport, FL
October 9 – 14, 2016
 A few words from the National President, Joey Price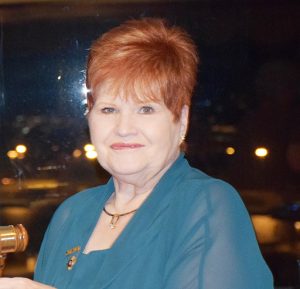 I would like to thank the hostess club Honeybees #257 for their hard work and dedication in making this a great week.  I enjoyed meeting up with old friends and making new ones.  Julie did a great job conducting our meetings in a very professional and organized manner.
I am truly amazed to be standing before you again as your newly elected National President.  I will do my best to do this job in a respectful and honorable manner.
As I look out at all your smiling faces I see many possibilities.  Our lives are filled with endless possibilities.  We just have to open our minds to new ideas and changes.  This means making smart choices.  We can choose to look on the bright side, to act or react or just sit by and watch everything pass by.  In everything we do we have a choice to make, is our club going to be great or is it going to be mediocre?  This applies to every project we do, service, fundraising activities or membership.  And it is never too early to learn how powerful the right choices are.
I mentioned membership last but by no means is it unimportant!!  In fact it should be #1!  I have seen membership decrease from 4000 members to under 500.  Some of this has been due to base closures.  Some because we found it too hard to encourage new spouses. Membership affects us by reputation with the military and other organizations.  It also affects us financially.  If we want to be around for another 25 years we need to get these new members. As military spouses we have a special bond.  We have all been through many deployments, being mother and father to the children, taking care of car repairs and other household duties. Active duty or retired the bond is never ending.
When we joined NWCA we were looking for friendships, fun, community service and adults to just talk to. I would say a new spouse would probably join for the same reasons. The only difference is maybe her ideas of service and fun are different, or are they?  Remember when you dressed up like the Wizard of Oz and visited the hospitals, or had the six foot bunny at the disabled children's school for Easter or the time you had the Halloween party and dunked for apples.  How about the fund raisers, the big talent show, the dog walk, even the grocery give away.  These were all fun and you had a great time doing them.  That is what we need to get back to.
Membership should be easy.  Not everyone will be able to do everything, but  what they can do is important and we should never turn anyone away.  Diverse personalities give you great ideas.
So maybe some changes are needed.  Is it going to be easy?  NO, we all have a natural resistance to change.  It takes us out of our comfort zone.  But in order to grow we must make changes.
The thing is, we still live in a world of opportunity.  In fact we have more than an opportunity—-we have an obligation.  An obligation to do great things by increasing the membership of this wonderful organization.
Membership is power and through membership there are endless possibilities.
I have chosen for my theme "Endless Possibilities Through  Membership"
Let's all feel the POWER!